Uporabljate Google Search, Youtube, Gmail, Maps in ostale Googlove storitve? Vaše kompletno internetno življenje se nahaja na enem mestu.
Google je lansiral My Activity page , ki vam daje kompletno sliko vsega, kar ste počeli s pomočjo Googla. Torej celotna Chrome zgodovina brskanja, iskanja, posnetki z Youtuba …
Tudi ta stran ima brskalnik, tako da lahko brskate po svojem življenju na internetu, iskanja lahko filtrirate po različnih kriterijih.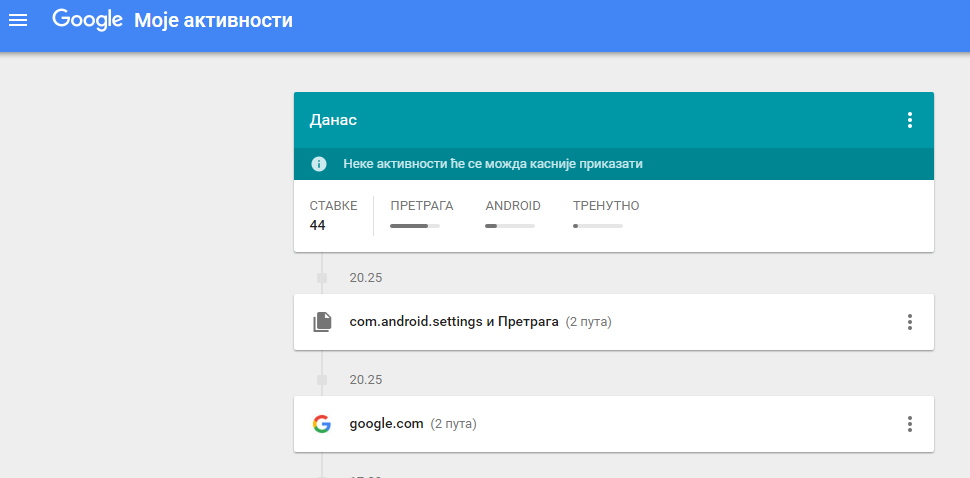 Če se ne zavedate, koliko informacij pustite na Googlu in vas je postalo strah, lahko izključite to možnost v Activity Controls page in ne dovolite Googlu, da spremlja vse vaše aktivnosti.
Spremljanje aktivnosti pomaga Googlu pri boljšem ciljanju oglasov, ki vam jih bo prikazoval. Tudi to opcijo lahko izključite, tako da izklopite "ads based on your interest", kot tudi "ads based on your interests on websites beyond google.com".
Kot navaja Google, se vam bodo oglasi še naprej prikazovali, ampak, logično, ne na osnovi vaših aktivnosti.
Vir: mashable.com